I'm certainly not saying that anybody should believe that Biden has done several shows from a studio with a green screen background that was added to other footage, but that is the "conspiracy theory" in this post. This would explain the "glitches" in president Biden's on screen appearances.
If my conclusion is correct than maybe this was done because now that Biden is president, they can't afford to make a fool of himself. I guess that as Biden still can't do an interview without risking disaster, we can expect more of these...
In this CNBC interview, really throughout the whole interview, Biden's face is very white, and there is a glitch between the white face and the light brown neck (of somebody else actually in the studio?).
https://youtu.be/BQHyqi0fARo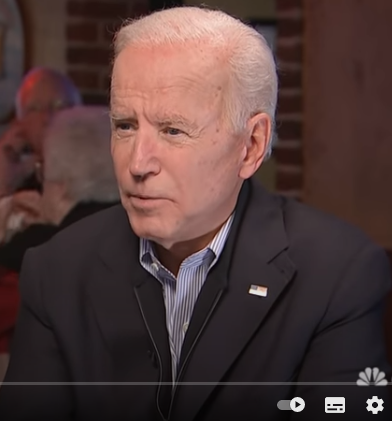 I'm afraid I don't even understand how Reuters "debunks" this glitch:
https://www.reuters.com/article/uk-fact ... SKBN26S310
In this clip, Biden's white hair blurs out as he is walking in front of the white background - timestamps 26:31 and 26:33.
Even with all of this fakery, he still forgot her name - at 25:52.
https://youtu.be/VbByBjnUAZI
Also check the brown doors!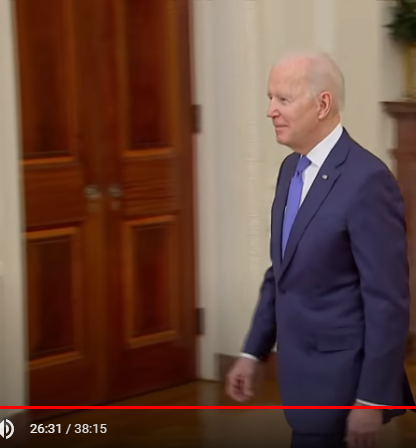 https://www.winterwatch.net/2021/03/is- ... fake-mode/
Another green screen f*ck up, Biden's hand "IS" behind the microphone but his hand is shown in front of it twice - timestamps 0:07 and 0:09.
https://youtu.be/g0139UytcR8
Some "conspiracy theorist" made a GIF of President Joe Biden's hand going through the microphone. At the very least this looks very strange!
https://archive.is/niJPY/f0c54f176702d9 ... a2a0d1.gif
https://www.newstarget.com/2021-03-17-a ... creen.html
Thanks Reuters for once again "debunking". Pointing to a C-Span video which covers the glitch with a blue bar, too bad the second glitch also shows at 0:22 in the C-Span video:
https://www.reuters.com/article/factche ... SL1N2LH199
The "reputable" Independent did such a poor job at "debunking" that they actually deleted the article in which they called it a "brief optical illusion":
https://web.archive.org/web/20210318195 ... 19295.html