I didn't want to start a thread on this, but I found an interesting story (the last link in this post) when I was researching for the following thread, and this deserves its own:
http://www.lawfulpath.com/forum/viewtop ... 8&start=20
There's even an obvious link to the money laundering Malta Island, where earlier this month a journalist, internet blogger was executed with a car bomb:
http://www.lawfulpath.com/forum/viewtop ... =170#p4398
First look at the timing.
At 12:00 15 July 2016, news emerged that a military coup is taking place in Turkey. "Real" coups are scheduled in the midst of the night to catch everybody off guard.
At 20:00, the Turkish government confirms a coup in taking place. That really is a coup staged at prime time.
At 21:30, the Turkish government says it is still in power, and tells people to take the streets to "protest" the coup. This is sort of a coup with a total time of 9 ½ hours…
At 01:00 16 July, Recep Tayyip Erdogan "bravely" returns to Turkey where he is cheered in front of the cameras by the crowd:
http://shoebat.com/2016/07/16/this-fail ... per-state/
According to the state media, 99 generals were involved in the coup attempt. The Turkish military leadership must be incredibly incompetent.
They "failed" to take control of key nodes of power and Erdogan could even continue to communicate (give orders) with his security forces and make triumphant appearances on the telescreen:
http://www.jpost.com/Opinion/Erdogans-f ... ion-462081
The coup plotters had no media presence at all, not by television or internet. Media organisations like Dogan (CNN Turk), Hurriyet and others were still spreading pro-Erdogan state propaganda, including updating their websites. Supposedly even after they had been seized by the coup plotters!
One of the first things to do in a coup is to explain how corrupt, dictatorial the current leaders are (and in a Muslim country, you could expect some rhetoric that the leaders are bad infidel, Muslims).
Reuters
reported that:
At least two F-16s harassed Erdogan's plane while it was in the air and en route to Istanbul. They locked their radars on his plane and on two other F-16s protecting him.
(…)
At the height of the attempt to overthrow Turkish President Tayyip Erdogan, the rebel pilots of two F-16 fighter jets had Erdogan's plane in their sights. And yet he was able to fly on.
Just think about that for a second or 2…
This was a reported military coup, but on 17 July 2016, more than 2,700 judges were dismissed "
along with several members of the council itself
". Obviously the Erdogan government was very well prepared for this coup.
Are we supposed to believe that there were judges running around in this coup with weapons, or were these judges threatening pro-Erdoganists with an instant verdict to be sentenced to jail:
https://www.activistpost.com/2016/07/qu ... -coup.html
(archived here:
http://archive.is/ktxf5
)
Some soldiers admitted that, they had been told that they were taking part in a military drill.
Unarmed citizens supposedly stopped the soldiers with their tanks and arms (see the picture).
According to Colonel Ajit Bhinder, Indian army's Director of Defence and Research and Development, it was "clearly staged drama". He tweeted:
Turkey coup - images show zero tactical deployment, tanks parked on bridge and troops surrendering voluntarily to civilians - clearly staged drama
http://www.express.co.uk/news/world/690 ... grip-power
(archived here:
http://archive.is/sOPlD
)
Like in any other false flag of the 21th century there was computer animation to sell it to the public. See the video, and the following screenprint (I guess this is supposed to look like a cut-off body):
https://www.liveleak.com/ll_embed?f=b6130334b9ee
Erdogan's partner in crime, Fethullah Gulen, who was blamed for the coup, was able to tell that it had been staged, but couldn't name many important fact. Please note that the previous stories were written only a couple of days after 15 July 2016 (and I didn't do a study of weeks on this coup).
Gulen points to a 185 pages report, which amongst others uses an interview with Gulen for "evidence". Finding important facts in this report is like searching for a needle in a haystack.
Maybe the following facts add something to what is already here.
168 generals and thousands of officers have been tried on coup charges. An estimated 200,000 troops are under the command of these generals. And the whole "coup" lasted some 10 hours?
The head of Turkish intelligence service (MIT), Hakan Fidan, was tipped off about the coup in advance according to his own written statements to Parliament:
http://fgulen.com/en/press/news/51412-o ... an-himself
(archived here:
http://archive.is/NYMDR
)
See Gulen in a Masonic handshake with Pope John Paul II.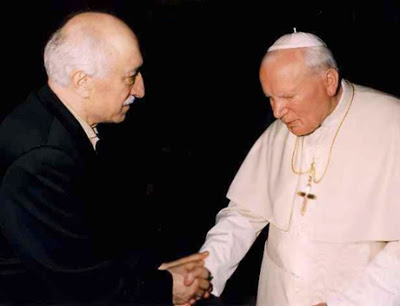 The last link shows motive (and this was my starting point); I haven't seen any other site that has made the connection.
The son-in-law of President Erdogan, Berat Albayrak, set-up an offshore structure in Malta and Sweden to evade millions of dollars in taxes for his company – Calik Holding. Calik is owned by billionaire Ahmet Calık, a friend of President Erdogan.
The plan was to transfer millions made in Dubai to bank accounts of shell companies in Malta, paying 35% tax and then apply for an 80% refund, as the money wasn't made in Malta - an effective tax rate of only 5%.
Then it would transfer to bank accounts (of shell companies) in Sweden. By declaring that it already paid 35% in Malta, Calik avoids further deductions.
When the money is finally brought to Calik in Turkey, the tax authorities are fooled into believing it is from a high-tax and reputable jurisdiction in Scandinavia.
Then in 2015, Albayrak becomes Turkey's Minister of Energy and Natural Resources, with an even better plan.
Five months after his entry in cabinet promotion, Safak Karaaslan sends a message to Albayrak on his private e-mail address with a document explaining how the US refused to join the Common Reporting Standard (CRS), a global anti-money laundering initiative. This means that Turkey can do the same.
A month later, on 3 June 2016, Karaaslan sends another email to the energy minister - with a draft bill for a new "
tax amnesty
" to be presented to the Turkish parliament. The law called the "
Wealth Peace Act
" would permit Calik to repatriate unlimited amounts of offshore cash (tax-free).
On 21 June, Albayrak forwards the draft bill to Erdogan's private secretary, Hasan Dogan.
On 23 June, Turkish prime minister, Binali Yildirim, offers the new Draft Bill to "
Amend Laws to Stimulate Investment
" to parliament, including the "
Wealth Peace
" provisions (Article 2 from the Bill), written by Calik's Karaaslan.
The Bill caused mayhem in Turkish Parliament, with opposition Members of Parliament explaining that it would open Turkey's doors to dirty money. Opposition parties threatened to block the whole draft law, if the AKP refused to remove Article 2.
On 14 July 2016, the AKP caved. Ozgur Ozel, MP for the opposition Republican People's Party (CHP) declared a victory, vowing to fight it if it reappeared.
On 15 July 2016, the coup event was staged. In the weeks that followed, parliament was preoccupied with passing state of emergency laws to tackle the "rebels".
On 22 July 2016, the Budget Commission added the "
Wealth Peace
provisions to another draft bill and sent it to the parliament. The bill passed in little over a week, and was sent to President Erdogan for his approval.
On 18 August, Erdogan signed the "
Wealth Peace
" money laundering law:
https://theblacksea.eu/malta-files/arti ... tax-scheme
(archived here:
http://archive.is/gWLKh
)