Last October 1 at 22:08 hours, the reported "lone wolf" shooter Stephen Craig Paddock from his 32nd Floor hotel room in Las Vegas shot and killed at least 60, and injured 527 more who were attending a concert …
He was conveniently found dead in his 32nd floor hotel room, as dead men tell not tales.
Paddock is portrayed in the state media as a Trump hater.
Why would he have 23 guns with him? Wouldn´t hotel security notice?
How could he shoot and kill more than 60, on top of the more than 500 injured from the 32nd Floor of his hotel room?
Where are all the pictures of all of the victims?!?
Am I the only one to think this looks staged?
Here's a picture of the crime scene that was conveniently leaked to the press.
This looks like an AR-15, set to semi auto. This could not be the rifle used in the shooting, but of course he had 22 more guns in the hotel room...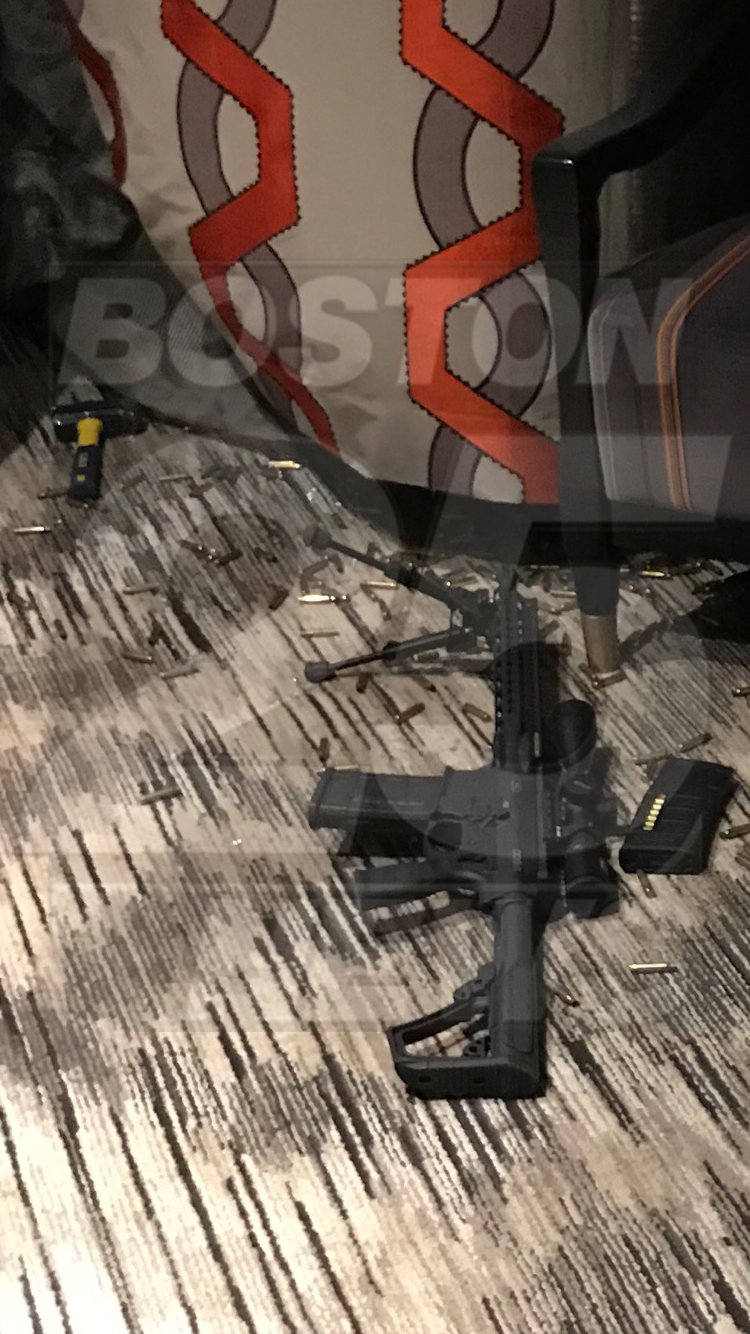 Here's the best video I've found of the shooting.
https://youtu.be/RxN0hyUbw14
Here's the first moment the first gunshots sound effects are heard - EDIT new video.
https://www.youtube.com/watch?v=n_yVEiRrduw
Here's a video of 2 eye witnesses, claiming there were several shooters. Am I the only one to label these as bad actors?
https://youtu.be/E_hELRLcIfE
Here's the full version of the first released photo of the shooter Stephen Paddock, with his eyes closed, and Filipino girlfriend - Marilou Danley. If you look closely, there´s a 13 on Paddock´s neck...
Marilou Danley worked as a "casino professional".
According to the (first) official story, Marilou Danley, the apparent girlfriend of Las Vegas shooter Stephen Paddock, was detained. She was released after the Las Vegas Police Department determined she was not involved in the shooting:
http://www.ibtimes.com/who-marilou-danl ... nd-2596262
(archived here:
http://archive.fo/X1QEG
)
Then it was claimed that the police later contacted Danley in Tokyo, Japan:
http://www.dailymail.co.uk/news/article ... z4uPbnYSMO
(archived here:
http://archive.fo/LvUwm
)
Marilou Danley, a Filipina, arrived in the Philippines on 25 September 2017. According to a Philippines Bureau of Immigration (BI) official, "
She was not in the United States when the Las Vegas incident happened
":
http://newsinfo.inquirer.net/935202/las ... z4uRQ8Z9X2
(archived here:
http://archive.fo/qlXd8
)
Here's his psychopath father, Benjamin Hoskins Paddock.
Look at the following picture at the time of the shooting.
Three policemen looking /aiming in different directions while two civilians stand out in the "danger" zone with their mobiles!
Look at the devil's horn sign image (in red!) on the stage screen in bottom left hand corner of the pic.
http://archive.is/ZP3Nr