It appears like the Westminster Bridge "terrorist attack" has been copied.
On 3 June 2017, a few minutes after 10:00 PM, a rented white van "
at about 50mph
" mowed down pedestrians on London Bridge. Then the 3 "terrorists" jumped out of the van with knives and stabbed a cop and some people with 12-inch knives, shouting "
this is for Allah
".
A total of 10 people were killed (including the terrorists), and at least 48 injured:
http://www.telegraph.co.uk/news/2017/06 ... ts-killed/
The 3 "terrorists" were shot and killed by the police in the Borough Market area near the bridge.
Here's a picture of the van.
Here is the released picture by Gabriele Sciotto of 2 "terrorist" lying on the ground after being shot by the cops. The trio wore fake, hoax explosive vests.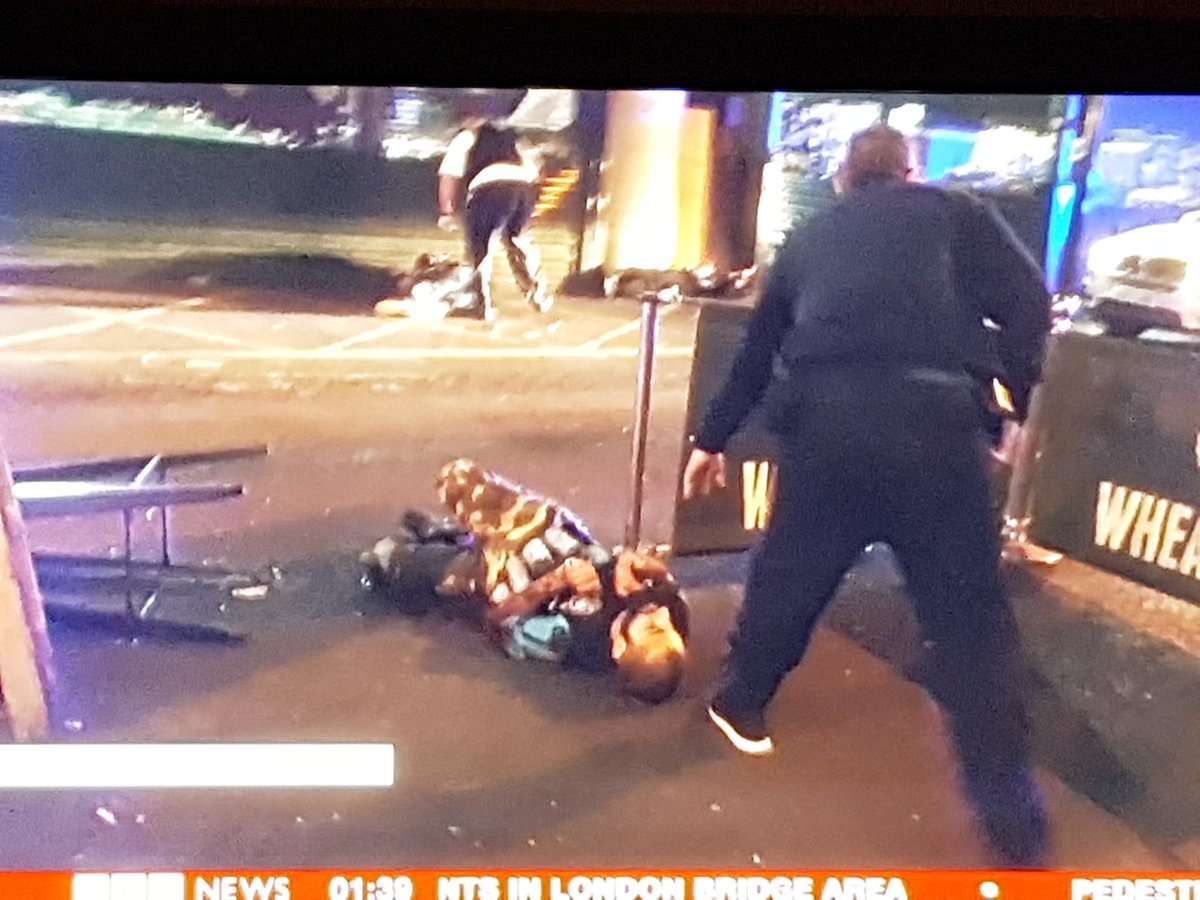 I haven't found video (CCTV) footage of the van mowing down pedestrians or of the stabbing; I haven't seen damage that resulted from the van (for example on London Bridge or where it crashed) and haven't seen anybody that looks really injured.
The following photo shows one of the victims surrounded by a huge crowd of rescue workers.
There were practise drills for the last couple of months by the Blue Thunder squad, who were involved in catching the "terrorists"
:
http://www.dailymail.co.uk/news/article ... z4j18PEuax
An obvious difference with previous "terrorist attacks" is footage of heavily armed cops openly terrorising people on the streets.
At least 4 explosions were performed by the cops to make it all the more threatening.
12 people have been arrested in connection with the attack in Barking, east London, following an armed police raid at a block of flats.
CNN has mentioned "psy-op" in an early report.
https://youtu.be/9ckwCMf_a7k
The following video shows amongst others witness Gerard Vowles.
https://youtu.be/y60wDzZt8yg
On 31 May 2017 forum member DannyUK on Davidicke.com predicted another false flag attack (only viewable after logging in); DannyUK also predicted Westminster...
This prediction is just something to keep in mind and fall back up on should such an incident unfortunately take place.

I feel there is going to be a push to get a majority of the public behind the globalists agenda and we are at tipping point since the Manchester incident recently.

This isn't so much where this is going to take place but how I suspect it will be handled. I feel Britains Got Talent (BGT) will be used as a forum to sensationalise a "terrorist" FF attack however you want to look at it to get the desired effect while the show is on the air.

The attack doesn't have to take place at the BGT show just somewhere planned in the UK and BGT gets stopped and sensationalises the would be attack and goes to the "news" to alert people of an attack. This would be the perfect way to sensationalise an attack and get through to many of the mainstream people who use such as a distraction to such events there will be nowhere else to go and they will have to confront this "reality" and bigger leaps in the totalitarian tip toe can take place as that is of course will be the idea of such taking place.