In preparation of the British general elections on 8 June 2017, on 22 May 2017 (precisely 2 months after Westminster), MI5 strikes again.
This false flag hoax is different because there is almost no information to be found.
According to the official story, the 22-year-old Salman Abedi had his self-devised bomb, filled with nuts and bolts, go off in (or near) the foyer of the concert of Ariana Grande in Manchester..
Besides the 22 dead victims, a whopping "
116 people were injured (…) A total of 75 people remained in hospital as of 26 May 2017
" making this the largest "terror attack" since 7/7/'05:
https://en.wikipedia.org/wiki/2017_Manc ... na_bombing
I have found absolutely no evidence that supports the official story. There are only a few pictures of victims that don't look very injured.
Where are all of the videos and other pictures by the concert goers of what happened?
If it was a false flag hoax, letting it happen in a closed off section of a concert is obviously the easiest way.
An obvious motive is the coming British general election.
The only "evidence" I've found are the stories by the police, the state media, and statements of witnesses. A lot of these stories contradict each other, which doesn't make them very convincing.
It (once again) happened on the
22nd of the month
, by the
22-year-old
"Muslim extremist" Salman Ramadan Abedi, and Abedi
killed 22 people
…
BBC news reported that the bomb detonated at
22:33 hours
.
ISIS (once again) has claimed responsibility for the attack:
http://time.com/4790201/isis-manchester ... st-attack/
Two CCTV images (why only 2?) have been released of the suicide bomber Salman Abedi.
The released 2 pictures show Abedi in an elevator shortly before the bomb blasted, and are obviously photoshopped. According to the state media this was probably done to protect the identities of the other people standing near him:
http://www.dailymail.co.uk/news/article ... -bomb.html
This is ridiculous, and even if it were true, they would have blurred them out (instead of blacking everything around him out).
The most damaging detail in this photoshopped picture is that
in the left picture is a light coloured emblem on his dark cap, which cannot be seen in the right picture...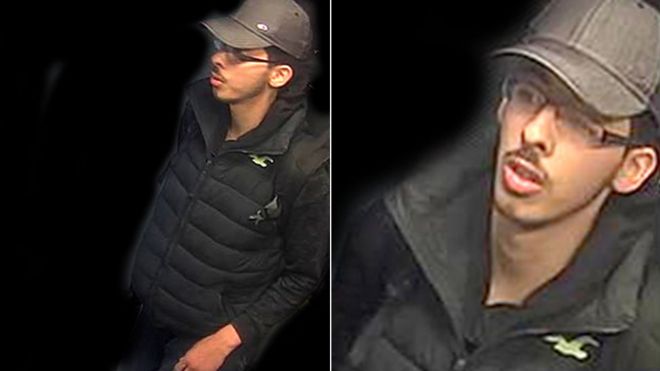 The following video starts by showing us that there was no panic in the concert arena. This doesn't prove anything really.
From 8:45 it gets interesting. A video is shown of the spot where the supposed bomb went off.
It really doesn't make sense at all.
This can't be the scene where moments ago a bomb blasted killed 23 (including the bomber) and left more than 70 severely injured.
(EDIT: video was deleted, haven't found another that shows this footage):
https://www.youtube.com/watch?v=vegWyH4FagI
At 13:10 in the last video the following double picture is shown (the left is earlier). It looks like in the right picture they made some adjustments to make it look more like there had been a suicide bomber.
What's also interesting is that the (big) advertisement is different in both pictures.
In the left picture, we can read "
We are entertainment
" with a red background.
In the right picture, there's the slogan "
We are Manchester
" with a crowd of people. Is "
We are Manchester
" an old campaign or was it specifically designed for this event (Je suis... Manchester)?
The following is the previous picture on the right without the blurred spots (why did they blur people out?). Some of these people could be injured, but I don't see any severe wounds...
EDIT 2X - video was deleted and the replacement videos again deleted.
The following video shows Queen Elizabeth visiting the hospital.
The most interesting is, starting at 1:24, the nurse with glasses tells the Queen that "
We'd all practised about a month ago, which it all worked like clockwork
". This sounds like admitting that they have specifically practised for this "event", but no doubt the state media can invent other explanations.
I don't see anybody that looks injured enough to be staying in hospital.
https://www.youtube.com/watch?v=h7Pkddmo8LE
It would be impossible for a suicide bomber to enter the concert with a bomb filled with all kinds of small metal objects... The state media have already covered this contradiction.
According to the following story, the security at the concert was highly inadequate; so we must believe that a suicide bomber could enter the venue without any problem, when the concert was almost finished. Has anybody ever tried to go into a venue, when there are 21,000 people trying to get out ASAP?
More contradictions, according to the Manchester Arena the attack took place "
outside the venue in a public space
":
https://www.thesun.co.uk/news/3626368/m ... -how-tram/
According to the following story, the bomb exploded "
after the concert had finished
" and "
at the end of the concert
".
It also states that the bomb went off "
in the foyer
":
https://www.theguardian.com/uk-news/201 ... rt-england
There are also conflicting stories about the moment the bomb exploded, some say directly after the concert had finished (which appears to be confirmed by a video from inside the concert hall), while others claim it was during the song "
Dangerous woman
":
https://www.thesun.co.uk/news/3628320/m ... st-latest/
More conflicting stories in the state media...
The father of the British born Salman Abedi, Ramadan Abedi, was arrested, because from his home in Libya he vehemently denied that his son could have done this:
Salman doesn't belong to any organisation, and I know that he doesn't belong to any, there was nothing hidden, because I had open discussions with him about anything he wanted to understand. (…)
The situation is normal but the family is a bit confused because Salman doesn't have this ideology, he doesn't believe in these [extremist] beliefs.
Ramadan added that he thought that "security authorities" are behind this:
I'm sure that Salman didn't carry out such an act but there are hidden hands behind this, security authorities doing something against the Libyan community especially the youth there.
The photos of Hashim (the younger brother of Salman) sure look like "extremism" to me (almost as threatening as heavily armed soldiers patrolling the streets in Britain):
http://www.abc.net.au/news/2017-05-25/s ... er/8556972
To contradict these stories, Salman's mother - Samia Tabbal, who wasn't arrested - reportedly stated that she feared that her son had been radicalized, and had even told authorities (a mother snitching on her own son...).
According to NBC, a US intelligence official told them that that the terrorist's family had informed on the 22-year-old Salman as they feared he had become "dangerous":
http://www.dailymail.co.uk/news/article ... ntist.html
There is even an obvious scare tactic in the fact that Salman's mother is a "nuclear scientist". If nuclear bombs exist, the son of a "nuclear scientist" could surely make a magical "atomic" bomb...
According to the state media, Hashim Abedi confessed that both he and his brother are part of ISIS, because he said: "
I have ideology with my brother, I know everything about my brother, what he was doing there in Manchester
".
And there are even stories that some 5 years ago 2 people, who knew Salman from college, called the anti-terror hotline after he had said that "
being a suicide bomber was okay
":
http://www.independent.co.uk/news/uk/ho ... 54621.html
PM Theresa May and Donald Trump tried to make the attack more convincing by claims that May blamed Trump for leaking confidential information:
https://www.theguardian.com/uk-news/201 ... g-evidence
The selected puppet leader for Labour, Jeremy Corbyn, has pointed out that because the supposed suicide bomber, Salman Abedi, was born from Libyan parents (born in England on 31 December 1994), and that the UK/US government helped to bring down Colonel Gaddafi (for whom his parents reportedly fled to Britain before Salman was born), that the British government is responsible.
Many experts, including professionals in our intelligence and security services, have pointed to the connections between wars our government has supported or fought in other countries and terrorism here at home
http://www.telegraph.co.uk/news/2017/05 ... anchester/
CNN analyst Paul Cruickshank said that the terrorist attack could have been part of a "
right wing extremist plot
":
http://dailycaller.com/2017/05/23/in-ab ... alse-flag/
These types of accusations are designed to make a false flag attack more convincing, or make it more difficult to find information that this was a false flag.
I'll end this post with some strange witness testimonies.
Jenny Brewster told about the security shouting "
RUN
", just
before
the explosion:
Another witness Jenny Brewster told MailOnline: 'We were exiting the building when it happened.
'We'd headed towards the main doors as Ariana was performing the last song because we wanted to beat the crowds, but – as we made our way there - a wall of security men blocked it and told us to go the other way.
'Seconds later they shouted 'RUN!' and the explosion happened right behind them. Hundreds of people were running and screaming. Those men saved our lives.'
Heidi said that they were leaving "
through a fire exit
", before the bomb went off.
Heidi, of Nottingham, said when she saw groups of girls screaming and running she thought they had spotted pop star Ariana.
She said: 'We got there and she (Ariana) was amazing. We were leaving through a fire exit and we heard a massive bang, it shook the whole building.
Some people claim that popping balloons were mistaken as gunshots, but David Richardson talked about "
another explosion
".
David Richardson was at the gig with his 13-year-old daughter Emily. He said: 'The lights came on after the gig and people were starting to leave.
'As I turned to the left there was an explosion. It was about 40ft behind us near one of the exits.
'We just thought it was people messing about then it happened again. Another explosion sounded.
The homeless Steve talked about "
nails
", most of the stories describe "
nuts and bolts
".
A homeless man, called Steve, described the moment he had to 'pull nails out of children's faces' following the shocking attack.
(...)
'There were nuts and bolts all over the floor. People had holes in their back.
This description by Chris Parker of the "
no legs
" "
little girl
" sounds odd to me.
119 is just like 9/11, isn't it?
'I saw a little girl - she had no legs. I wrapped her in one of the merchandise T-shirts and I said 'where is your mum and daddy?' She said 'my dad is at work, my mum is up there'.'
He said he thought the child's mother had died from her injuries following the incident which left at least 119 people injured.
The last strange (contradictory) witness statements are all from here:
http://www.dailymail.co.uk/news/article ... ttack.html