Can you imagine that now our wonderful media are spinning the tale that a major amount of COVID deaths could have been prevented if only Japan had vaccinated faster?!?
Japan has seen significantly more COVID deaths in 2021 than in 2020.
After a first peak from 3 to 8 February, the number of COVID deaths drastically dropped until 7 April, then began to sharply rise to another peak from 21 to 23 May.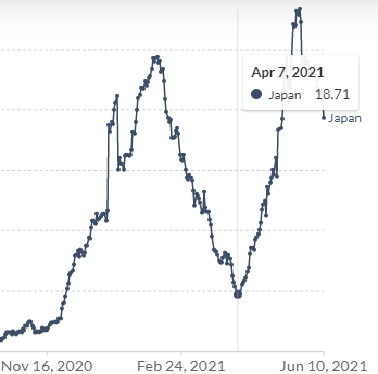 While the first COVID vaccines were given in February, the number of daily doses only started to be increased on 18 April (when only 1% of Japanese had been jabbed), reaching 12% of the population by 10 June...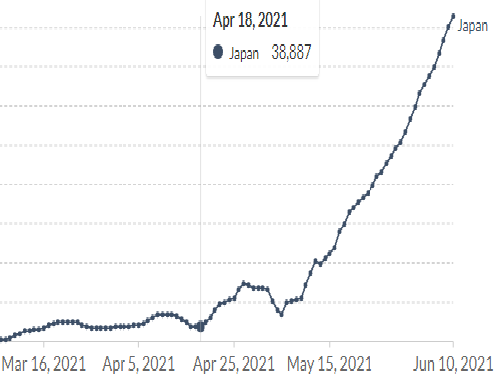 While the peak in COVID deaths has dropped since 23 May, the number of fatalities is still very high, and is probably caused by the experimental COVID vaccines:
https://ourworldindata.org/coronavirus/country/japan
While most of 2020 the COVID "pandemic" was without COVID vaccines, in 2021 a massive amount of innocent victims were poisoned with the experimental COVID vaccines.
So, not very surprisingly the number of so-called "Covid-19 deaths" in the first 5 months of this year is already higher than in 2020.
The intensified vaccination campaign in parts of Asia and Latin America have propelled global COVID deaths higher.
Argentine President Alberto Fernández said: "
We are living through our worst moment since the start of the pandemic
".
As the vaccination campaign started in Europe and North America, at the turn of the year these parts of the world accounted for 73% of daily cases and 72% of daily deaths.
Now, as South America, Asia and Africa have intensified the COVID vaccination campaign, they account for more than 80% of daily cases and 75% of daily COVID deaths (of course the majority of people in the world survive in Asia).
Already more than half in the U.S., more than 40% in the EU and 22% in South America have been jabbed with these deadly COVID vaccines. As they will have to stop vaccinating people in the "developed" world, it looks like the death toll by the COVID vaccines (cynically reported as COVID deaths) will have to drop (until we get booster shots of course).
We can also expect that in the Northern hemisphere the number of deaths reported as COVID-19 will rise in October/November (when every single year flu deaths rise).
Don't be surprised that if you open the link to the WSJ article, you find my summary of the information unrecognisably transformed into vaccine propaganda (or vice versa) that concludes (despite all the evidence that the COVID vaccines are deadly) "
The strategy is pretty simple: Everybody in the world has to get a vaccine
":
https://archive.is/cIjRI
Even if there was some terrible pandemic, this shouldn't be reason to emergency approve vaccines at warp speed.
The Pfizer/BioNTech vaccine trial started on 29 April 2020, with estimated completion dates for primary outcomes of 30 July 2021, and secondary outcomes in September 2023
These mRNA vaccines are completely new technology (synthetically made by a computer literally in days), some call it "gene therapy" (what's in a name?). This makes it all the more genocidal to emergency approve them and then test them in the greatest medical experiment in history on the population at large. With already 2 billions jabbed in violation with the Nuremberg code, under which German Nazis were sentenced that were obviously just small-time eugenics psychopaths compared to the elites and big pharma executives in 2021.
The following article shows once and for all how dangerous it is to have these experimental mRNA vaccines approved without a proper medical trial.
The official explanation on how these mRNA vaccines work is that they inject mRNA into the bloodstream that orders the blood cells to create a SARS-CoV-2 protein, which magically "teaches" the immune system to fight COVID-19.
Because these mRNA vaccines are completely new technology that were approved without proper medical trial we know next to nothing of its long-term adverse effects.
Injecting synthetic mRNA for medical purposes has been tried and failed over and over again for a variety of disorders for more than 15 years.
This failed over and over again because mRNA backfired causing the immune system of lab animals attacking the cells that were producing something alien to the body (an autoimmune disorder).
So then they had the great idea to make mRNA vaccines, speculating that injecting only a small amount of mRNA would cause less harm...
So Moderna that was founded in 2010 suddenly became a vaccine manufacturer!
Besides the mRNA technology also the polyethylene glycol (PEG) coating has never been used before in an approved vaccine.
PEG has been used in several drugs that have triggered anaphylaxis — that can cause rashes, plummeting blood pressure, shortness of breath, and rapid heartbeat. Severe allergy-like reactions that have occurred after being poisoned with the Pfizer-BioNTech vaccine shouldn't be surprising:
https://archive.is/RoBcJ
The following was written by Dr. Rebecca Carley, already in 2005. It contains some convincing arguments that vaccines make viral infections worse.
And also argues that mRNA vaccines could cause the extinction of all vaccinated life...
IgA helps protect against viral infection, agglutinate bacteria, neutralize microbial toxins, and decrease attachment of pathogens to mucosal surfaces. What this author has realized is that bypassing this mucosal aspect of the immune system by directly injecting organisms into the body leads to a corruption in the immune system itself whereby IgA is transmuted into IgE, and/or the B cells are hyperactivated to produce pathologic amounts of self-attacking antibody as well as suppression of cytotoxic T cells (as explained shortly). As a result, the pathogenic viruses or bacteria cannot be eliminated by the immune system and remain in the body, where they cause chronic disease and thus further grow and/or mutate as the individual is exposed to ever more antigens and toxins in the environment. This is especially true with viruses grouped under the term "stealth adapted", which are viruses formed when vaccine viruses combine with viruses from tissues used to culture them, leading to a lack of some critical antigens normally recognized by the cellular immune system.
(...)
In fact, the "prevention" of a disease via vaccination is, in reality, an inability to expel organisms due to the suppression of the cell-mediated response. Thus, rather than preventing disease, the disease is actually prevented from ever being resolved. The organisms continue circulating through the body, adapting to the hostile environment by transforming into other organisms depending on acidity, toxicity and other changes to the internal terrain of the body as demonstrated by the works of Professor Antoine Bichamp.
(...)
Another heinous (and obviously genocidal) creation of the Anti-Hippocratics is the DNA vaccines now being developed. These vaccines contain plasmids, which are closed rings of recombinant DNA that make their way into the nucleus of a cell and instruct the cell to synthesize encoded antigenic proteins[8]. Thus, the very genetic makeup of the individual, plant or animal will be altered to produce a never ending supply of antigens to distract the immune system. These genetic changes will remain as cell division occurs, and will be transmissible to offspring. This is the TRUE "mark of the beast", and could lead to extinction and/or modification (including behavioral) of any group inoculated.
https://famguardian.org/Subjects/Health ... ns-WMD.htm
(
https://archive.is/RWKEP
)
New research shows that the toxic coronavirus spike protein from the COVID-19 vaccines (un)expectedly enters the bloodstream, which is a probable cause of thousands of adverse effects, including blood clots, heart disease and brain damage.
According to vaccine expert Byram Bridle, associate in Ontario, Canada. Once in the bloodstream, the spike protein can attach to ACE2 receptors on blood platelets and the cells that line blood vessels.
When that happens it can do one of two things: it can either cause platelets to clump, and that can lead to clotting. That's exactly why we've been seeing clotting disorders associated with these vaccines. It can also lead to bleeding.
(...)
We thought the spike protein was a great target antigen, we never knew the spike protein itself was a toxin and was a pathogenic protein. So by vaccinating people we are inadvertently inoculating them with a toxin.
https://www.lifesitenews.com/news/vacci ... rous-toxin
See the crooks at the G7 in Cornwall. Where's the social distancing and masks?!?